FAQ
Work during the war
Do you still procesing orders despite the war?
Yes, we are continuing to work to bring Ukraine closer to victory.
What is the estimated delivery time during the war?
For all customers from the continental territory of the US, canes with a badge of "US Warehouse" will be delivered within 5-7 days after placing an order. All other orders will be shipped out from Ukraine via registered airmail (UkrPoshta, official Ukrainian postal service). Within the territory of the US, the package will be delivered by USPS within 3-5 weeks after placing an order (please note, delivery requires a signature upon receipt).

All customers will be provided with tracking numbers.

We also can ship our canes Worldwide. Approximate delivery times are as follows:

- Canada: 3-6 weeks (via Canada Post);
- United Kingdom: 3-5 weeks (via Royal Mail);
- Europe: 3-5 weeks (via local regular postal services);
- Other countries: 3-6 weeks (via local regular postal services).
General
What are your canes made of?
Our canes are hand-carved from top-quality solid oak wood, finished with eco-friendly hypoallergenic Danish oil and waxed with natural carnauba wax. The pommels are hand-casted in high-quality metal (brass or melchior of your choice).
What colors are available to customization a cane?
At this moment, our canes can be stained in nine colors of your choice: walnut, caramel, natural, cherry, black, white, indigo, khaki, emerald.
How do I measure for the proper length of a cane?
Please put on the shoes you wear and ask someone to measure the distance from the floor to your wrist with your arms hanging relaxed at your sides. The number of inches between your wrist and the floor is the length that your cane should be. This method is the most accurate.
You also can use the chart below. Please note, this is the least accurate method, use it only if you can't use the previous method.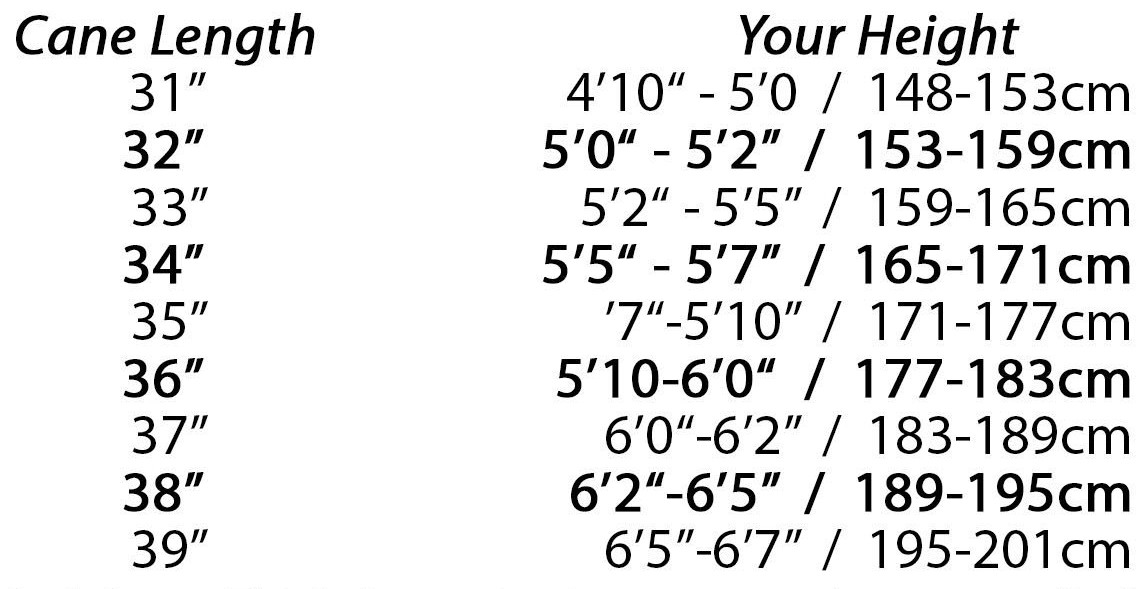 Disclaimer
: this information in no way replaces a medical professional's recommendation.
How can I make a cane shorter by myself?
First, you need to measure and mark the proper length of a cane, take off the rubber tip (you can use a hairdryer to warm up the tip to make the process easier), and cut off the end of the shaft with a saw. After that, place the tip back on the shaft.
How can I order a shaft only?
What is the best way to care for a cane?
The best way to care for wooden parts of the cane is a semi-solid wax polish for wooden furniture. To clean metal parts of the cane, you can use a multi-purpose metal polish (be careful, ensure a metal polish won't contact with the wood).
What is the weight capacity of your canes?
Our canes are strengthened with a metal spindle so wooden cane can endure up to 400lbs of weight on condition that you'll apply the main load on the axis (shaft) of a cane. Hold a cane with your index finger pointing down the length of the shaft for maximum weight distribution.
We can make even-stronger cane to endure up over 400lbs of weight but in this case, we'll have to use a stainless steel tube instead of the decorative collar ring below the handle. If you need a strengthened cane just contact us on
Facebook
or via
Contact Page
before placing an order.