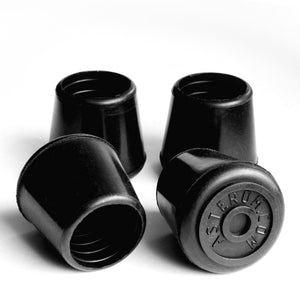 Replacement cane tips of 7/8 inch made of heavy-duty solid rubber

Easy to install or remove

These walking cane tips fit both metal or wooden shafts of 7/8 inch in diameter

Rubber cane tips designed to protect the bottom of a cane and soften your walk
Approximate delivery times are as follows:
United States - 3-7 days (via USPS or UPS);
Canada - 2-4 weeks (via CPC);
United Kingdom - 2-3 weeks (via Royal Mail);
Europe - 2-3 weeks (via local regular postal services);
Australia - 3-5 weeks (via Australia Post);
Other countries - 3-5 weeks (via local regular postal services).
  We are offering 30-days hassle-free return policy. If you are unsatisfied with your purchase, please contact us and we guarantee that we will solve whatever issue and provide you with the best possible solution.
No complaints
With these, you get exactly what you're expecting. They're well-made, durable, and exactly the size as described. Whether you're using them as cane tips or on the legs of a table, you won't be disappointed. They slide on easy, stay in place perfectly, and are durable enough to last a long time.
👍 good for canes and to even my crooked card table!
Flexible but reinforced bttm..When my mom was alive we often needed these.. these are more substantial than a lot of the ones we had..🐈🐈🐈🐈🐈
Goes on easy, grips well
Rubber Cane Tips 7/8 Inch - Set of 4 Pieces The rubber cane tips came packaged simply in a small Ziploc-style style baggy. At first glance, I thought they looked a little small, but luckily I was proved wrong in that impression. It was harder to get the old tip off my cane than it was to put this new one on. The rubber is soft enough that it slides onto the cane tip easy enough, and it's a tough enough style of rubber that walking around with it for a week hasn't worn it appreciably, even though part of that walking was on the concrete. That, added to the fact that this comes with four pieces in the kit, I think makes them a good value as they should last for quite a little while.
Perfect replacement. Good quality.
These are exactly as shown and described in the product details. They even look better than the original cane tips. They have an excellent tactile feel, not slippery. Hopefully, it will maintain this quality as it's being used. Appreciate getting 4, which allows spares to be kept for handy replacement.My sister has a number of canes, and used 2 of these replacement tips on 2 of her favorite canes. Since they're favorites, they get used more often, hence the tips get worn. She's happy with the improvement.Having a good, effective cane tip is critical for cane stability and function. Based on the apparent quality and fully meeting expectations, this product earns a 4.75 - 5 star rating.
Nice For Walking Sticks or Canes
Nice to have these on hand. I have a handmade walking stick that these fit perfectly. The rubber tip makes using the stick quieter and keeps from slipping. Sometimes these are hard to find, so happy to have found them here. Very nice.